Jordan Leen gives instruction at Pittsford Wrestling Camp.
By BRYAN SULLIVAN
bsullivan@messengerpostmedia.com

Jordan Leen knows something about beating the odds.

The Cornell University graduate wasn't given much of a chance at the 2008 National Championship. Leen upset three ranked wrestlers to win the title at 157 pounds. Overcoming adversity was one of many tips Leen gave several area wrestlers last week at the Pittsford Wrestling camp at Barker Road Middle School. The camp had nearly 100 competitors from schools around Monroe County.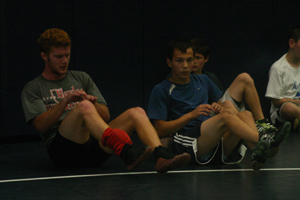 "I knew this camp was well established in this area, and it was an honor to get a call from him to get a phone call from someone like (Pittsford head coach Jason Bovenzi)," Leen said. "It's been a pleasure to hang out with these guys and get to know the wrestlers from this area better." Leen, a native of Soddy Daisy, Tenn. is no stranger to the camp circuit having lectured at camps throughout the county. He is going to be passing on his teachings in a different manner this fall when he becomes an assistant coach with the Big Red.

Leen enjoyed plenty of success on the high school level before competing at Cornell. He was the all-time winningest wrestler in Tennessee history. "One of the great things about having a guy like Jordan here is that he is not only a great athlete, but a great student," Bovenzi said. "He's caring, and you can tell what a quality person he is. He is committed, you know that when he starts something he is going to follow through on it."

The camp was open to wrestlers entering grades seven through 12. The Pittsford Wrestling program also sponsored a youth camp this summer open to campers entering grades two through seven.

The campers learned plenty of drills to improve their grappling, but they also received plenty of instruction on how to improve their conditioning in and out of the season. "This is a great group to teach because everyone is excited and eager to be here," Leen said. "Those are the type of guys you want to work with."

For Pittsford Sutherland senior Paul Lloyd, the opportunity to train with an all-american was something he was unwilling to pass up. Lloyd, who will wrestle at 152 pounds this year, joined several other wrestlers throughout the Pittsford program at the camp.

"I love coming here, because I feel like I am getting better," Lloyd said. "You learn a lot of techniques, and it helps you for the upcoming season."

Pittsford wasn't the only Section 5 program well represented at the camp. Several wrestlers from Fairport and each Webster program attended the event.

Wrestlers from Massapequa (Long Island) attended the event, staying together in a hotel and treating the camp like a business trip. Many wrestlers are treating the camp as a warm up to the 1000 Island Duals, a summer tournament that brings together the top wrestlers from around New York.

"A lot of kids will use this as a training camp," Bovenzi said. "It's great because a camp like this is cost effective. Instead of traveling, a kid can see the same type of training and competition he would if he went out of town."

Bryan Sullivan can be reached (585) 394-0770 ext. 273 or bsullivan@messengerpostmedia.com